SPEAK AND SPELL CIRCUIT BEND Speak and Spell Circuit Bent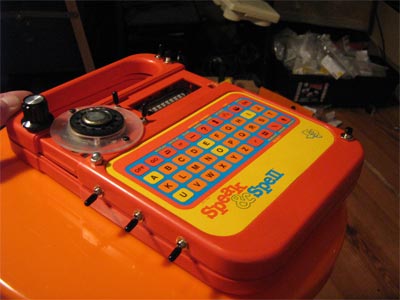 Détournement, court circuitage de la fameuse Dictée magique ( version anglaise ) de Texas Instruments ! Un classique du circuit bending!!!
Sound Design
Expérimentations Sonores
Live Act
Samples
Cliquez sur l'oreille pour écouter! Ces samples sont en téléchargement libre dans la section download du site !
Caractéristiques
Synthese Sonore court circuit de synthèse vocale
Mode normal pour perfectionner son francais!!!
3 interupteurs pour faire des effets de glitch (dialogue entre le language extra terrestre et le francais )
1 body contact pour faire un tremolo unique en fonction de sa masse corpore lle
1 potard pour controler la hauteur de note et délimiter la limite de scratch qui rend la dictée magique completement folle
1 bouton special pour faire des glitch infinis: alien radio outer-space frequency!
1 bouton pour capturer et modifié des boucles étranges!
1 panic bouton pour déconecter et faire reset sur la dictée magique ( cela sert à jouer musicalement en live!!!!!!
1 sortie gros jack en facde
1 interupteur pour choisir le routage du son entre le haut parleur integré et la sortie jack ( pour l'amplification! )
Pour toutes infos complémentaires, tips, achats, n'hésitez pas, contactez moi !!!