ALESIS HR-16 CIRCUIT BENDING NOMAD VERSION HR-16 Beat Box Circuit Bending!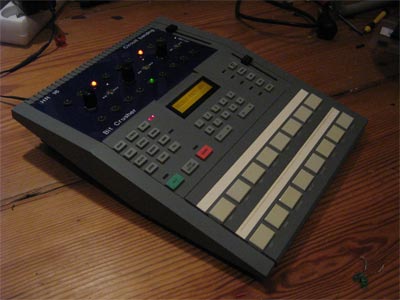 Sound hardware hacking of the ALESIS HR-16 beat box by circuit bending the 2 EP-ROM
Low-Fi Beat Box
Generator of aleatorics sound
Sound Design
Samples
For listening music, click on the ear!
Features
Sound Synthesis 8 bit mono 44 000 Hz sample pcm store on 2 EP-ROM modified and circuit bended.
Natural distorded and aleatoric drum sound from circuit burning!
Original fonctions of HR-16 ( midi, pitch, voice, pan, output, etc......)
20 points matrix patch bay interface to have infinty bending combination!
6 control switch to play the matrix patch bay
Chaos mode total anarchic circuit burn
1 switch : to link the Chaos Mode and the Matrix
1 rotary switch and 19 switch to control the Chaos mode!!!
For informations, tips, contact me!!!