ROLAND TR 505 CIRCUIT BENDING Matrix Patch Bay Interface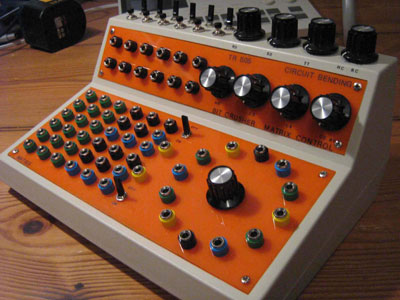 RHYTHM DE-COMPOSER
Sound Design
Lo-fi Beat Box sound
Live Act
Samples
For listening music, click on the ear!
Features
Sound Synthesis pcm sample store on ROM modified and circuit bended.
Normal Mode all original sounsd of the tr 505 are preserved of course ( you can play the tr 505
simlpy without the external control box )
Midi implementation all originals features are preserved like MIDI implementation and the famous groovy
sequencer of the tr 505
8 separate output idéal pour le studio, enregistrement et mixage multipiste
8 volume knob for controling volume voice
36 point matrix patchbay for infinity bending!!!
6 switch to control the matrix patchbay+ 6 interupts to control the matrix
1 rotary switch to control musicaly the bent!!!!
1 switch to choosen between the two mode of rotary switch!!( 2x12 bent )
1 switch for global distortion of sound
8 switchs for individual tracks distortion
For informations, tips, contact me!!!