HR-16 CIRCUIT BURN / BURNING CIRCUIT
Integrated into the MEGA ASPIRATOR 2600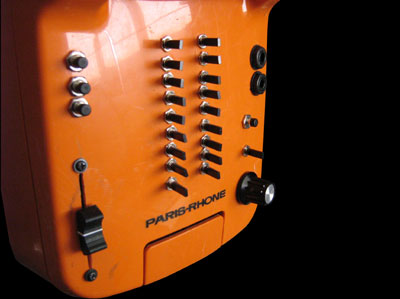 Sound hardware hacking and burning of the ALESIS HR-16 beat box replaced and resize inside

an vacuum cleaner.
Atypical synth,
Generator of aleatorics sound, ( drones, aliens fréquencies, etc... )
Samples
For listening music, click on the ear!
Features
Natural distorded and aleatoric drum sound from circuit burning!
Chaos mode total anarchic circuit burn
1 rotary switch and 19 switch to control the Chaos mode!!!
1 bouton panic for restart the OS!!!!
1 fader for controling the sound output
2 jack output for routing the stereo output to a mixer or recorder
1 switch on/off
1 prise 220 volts
Visual Part
Stroboscope for visual effect during live performence!
1 strobo switch on/off
1 knob for control the speed of the strobo!
1 display LCD for displayings bug generated by the H-16 circuit bending
1 on/off led indicator
Mega Aspirateur 2600 in action!!!
For informations, tips, contact me!!!