MASTER SYSTEM VIDEO BENDING Master System circuit bending!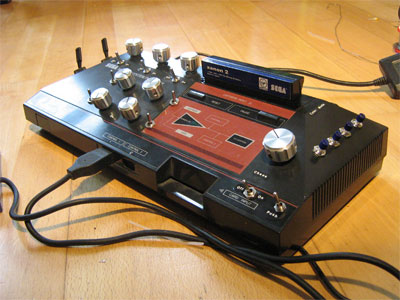 My first vidéo bending ! Retro Gamer 4 Ever!!!
Pixel Art
Visual experimentation
Live Act Vidéo
Features
8bit video game RGB
Normal Mode for retro gaming!!!
8 knob for video bending (the game don't scratch!!!psichedelic games! )
4 switch for colors variations
1 Freaks Mode bouton for a crazy effect
1 special buton: glitch the picture, alien TV outer-space !!!
2 boutons for scratch the game and enter to another world ;)
Video sample of Sega Master system,like for screens shots,the quality is bad...sorry, I record with my photocamera.......(there is a chaotic frame coming from the camera...)
For informations, tips, contact me!!!