MICRO MOULINEX 2600 Micro + Voice Transform!!!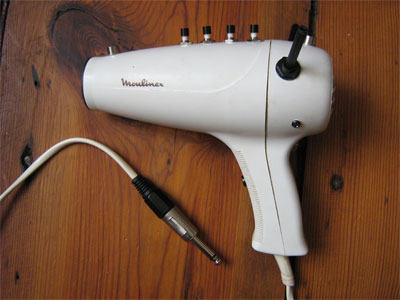 Lo-fi sound toy !!!
Sound effect
Sound experimentation
Live Act
Samples
For listening music, click on the ear!
Caractéristiques
Sound Synthesis voice digital effect
4 switch for select the effect Robot, tremollo, low and high
1 switch for imediatly cut the sound and make syncop effect
1 knob for the microphone sensibility
1 volume knob
1 alimentation led
1 audio signal led
1 switch on/off using the original switch of the hair drier
1 output jack using the original alimentation wire!!!!!!
Alimentation battery 9v
For informations, tips, contact me!!!